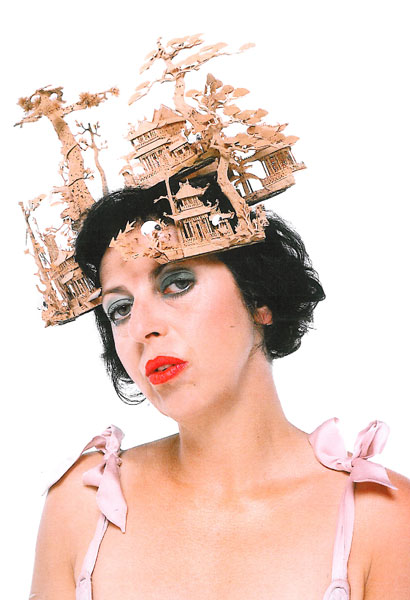 Isabella Blow: The Curious Face of Fashion
Isabella Blow: Fashion Galore at Somerset House is as curious as its subject. Dimly lit, and set in predominantly grey surroundings, perhaps this show has been styled to reflect Blow's depressed state of mind?
The initial exhibits include family memorabilia. Blow's grandmother was an avid explorer and adventuress, known for holding the world record for landing the largest tuna. She kept honey bears and a squirrel monkey called Mr Winks as pets. In 1939, she travelled with Lord Moyne (grandfather of Daphne Guinness) to Papua New Guinea, where she made photographic records of pygmies – in particular, paying attention to their dress and adornment. Isabella was very fond of these photos and often looked at them when she was a child. The rest is history…
The London based exhibition is a tribute to both Isabella's inspiration and the tragic legacy of her troubled mind. Unlike her childhood home and early relationships, fashion proved to be indestructible. She clung on to the fragile world of fashion, keeping her personal problems in the closet, whilst she nurtured young designers and supported aspiring creatives through their fledgling careers.
There is a wealth of photographic and video footage of Isabella's years as a fashion journalist and stylist, but hers is the hidden face – usually obscured by an extraordinary hat. You may get the impression that this show is a dedication to Alexander McQueen, Philip Treacy, Manolo Blahnik, Tim Noble, Sue Webster, or to emerging fashion/design graduates and models of the early '90s.
The show boasts many superb pieces of fashion architecture from Blow's private collection (purchased in its entirety by Daphne Guiness) – none more so than Treacy's pioneering millinery creations and McQueen's exquisitely constructed, cutting-edge designs. The displays illustrate the progression of the designers' skills, as they are transformed from raw-edged students into masters of their art.
But rawness is what this show is about. The story ends just as the cocoon is about to metamorphose into a butterfly. McQueen and Treacy's 2008 fashion show in dedication to Blow is as good as fashion gets. Isabella's spirit lives on – and you can almost feel her presence in the air at this exhibition. If you sense that she may be following you, turn around and you'll likely see one of the overly intrusive officials breathing down your neck, trying to make sure you're not doing something inadmissible, like taking a photograph.
You will probably leave feeling rather sad. Just make sure you allow at least a couple of hours to take everything in. And, if you're of a sentimental disposition, you may want to take along a box of tissues.