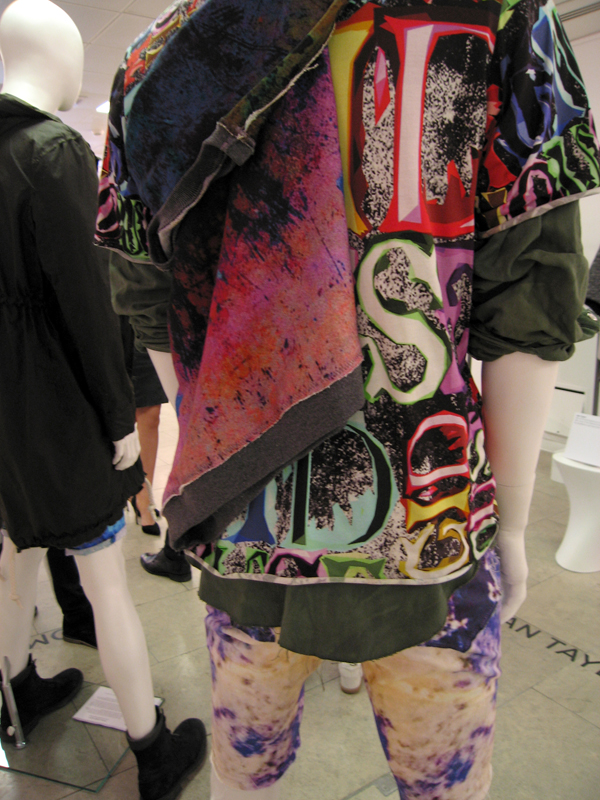 London Collections: Men – Exclusive Report Part I
London Collections: Men aims to bring to light some of the most talented menswear fashion designers in the world. Reporting exclusively for ShopCurious Mag, new contributor Sabina Trojanova interviewed the masterminds behind some of the hottest male clothing brands in the industry to present her picks from the SS14 men's collections:
T.Lipop – French Riviera Dandy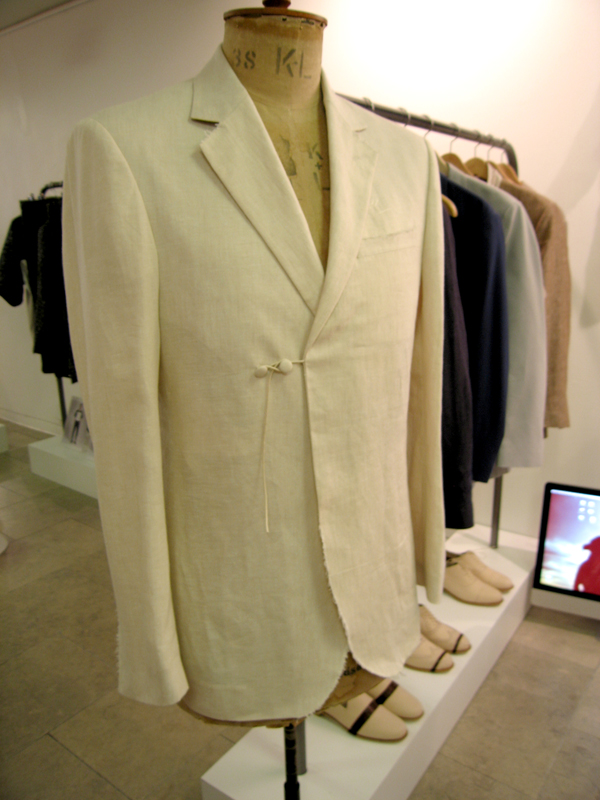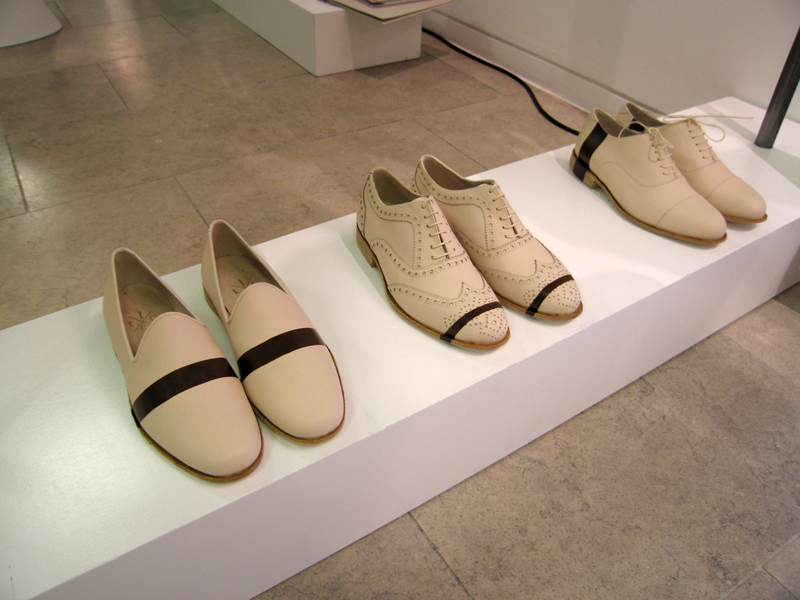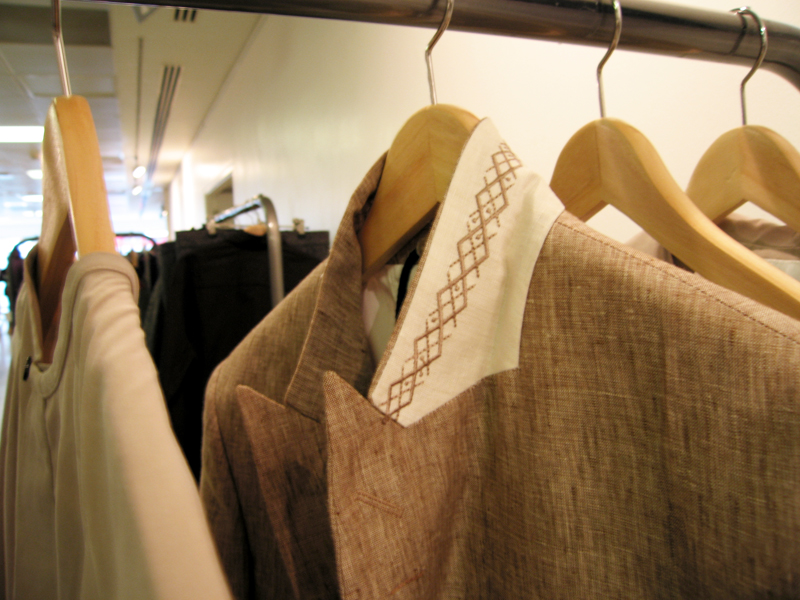 Lovers of simplicity will adore Tom Lipop's new collection. The light minimalist colour palette evokes the ease of a crisp summer day. Garments are modernised versions of their traditional predecessors, stripped down to mere basics: Classic linen suits are given a contemporary makeover, with raw edges – and business shoes take on a whole new character, with single hand-painted brown stripes, all the while sticking to the brand's less-is-more aesthetic. The designer cites the French Riviera as one of his main influences this season – he wanted to create garments with which the wearer could "fall in love with over and over," always discovering new elements in the form of hidden patterns and surprising details. Lipop's meticulous attention to detail is counterbalanced by the understated elegance of his creations – resulting in a collection that is well worth its salt.
The House of Nines – The Shard and White Noise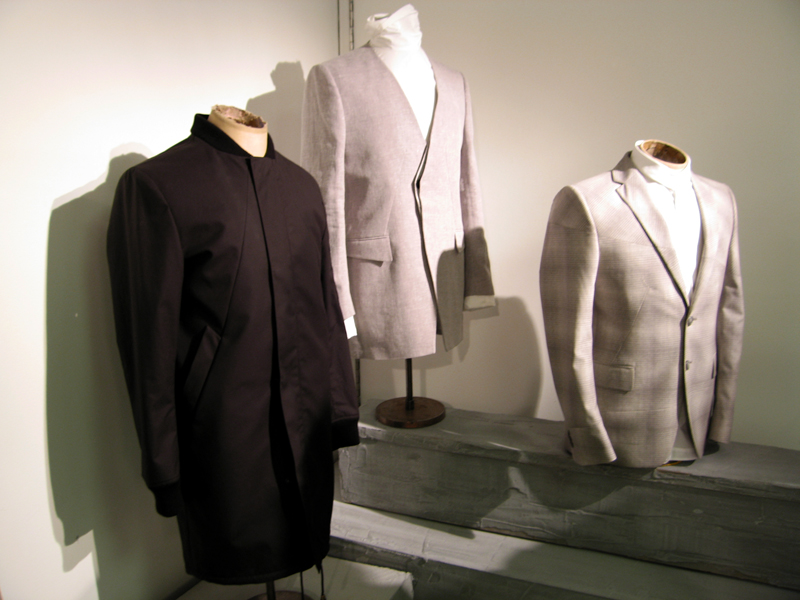 The House of Nines' SS14 collection provides a smooth transition from the theme of uniforms explored last year. The monochromatic spectrum, symbolising white noise and distortion, is reminiscent of the hustle and bustle of the City of London. It should therefore come as no surprise that the creators of House of Nines – Ross Paul Keenan and Shamrez Marawat – drew inspiration from the heart of the British capital, in particular its tallest skyscraper, the Shard. Their masterfully designed suits follow the building's outlines in all of its angular glory, cleverly combining architectural excellence with flattering slim-fitting cuts. The success of this brand may well reach the same staggering heights.
Trine Lindegaard – Prisoner Chic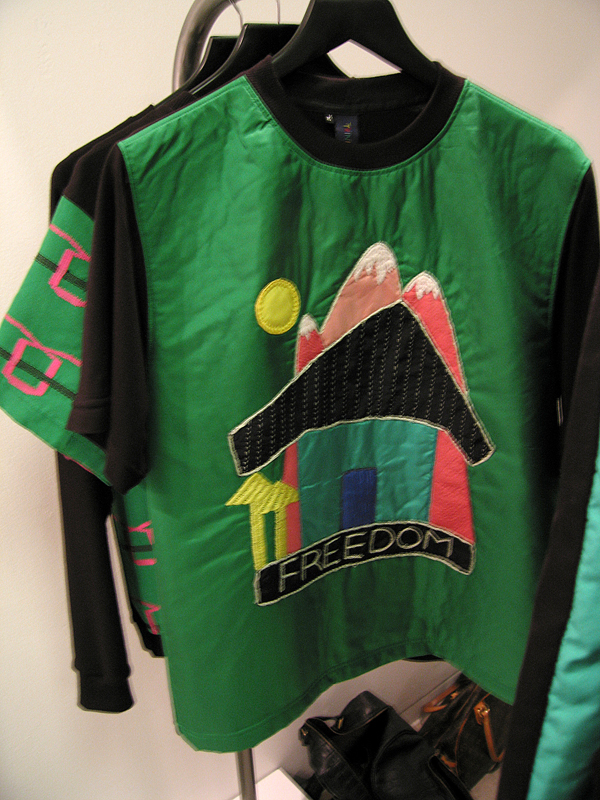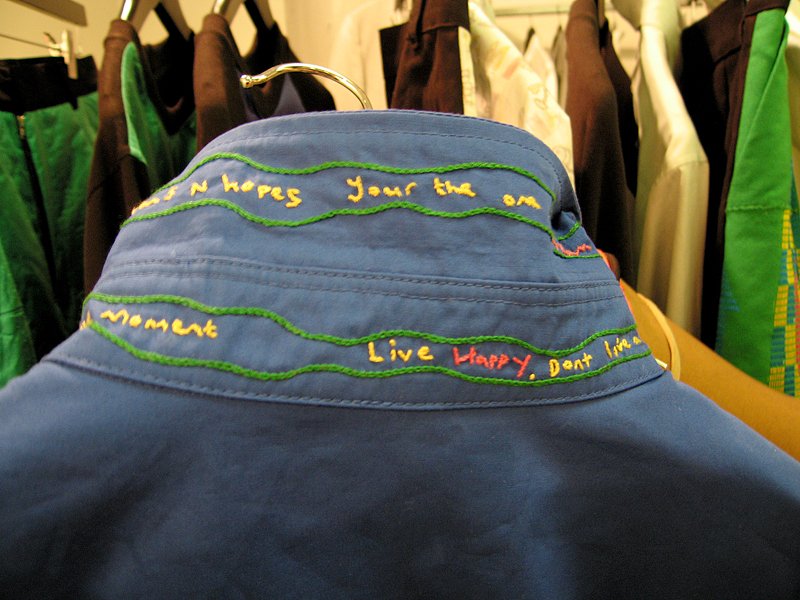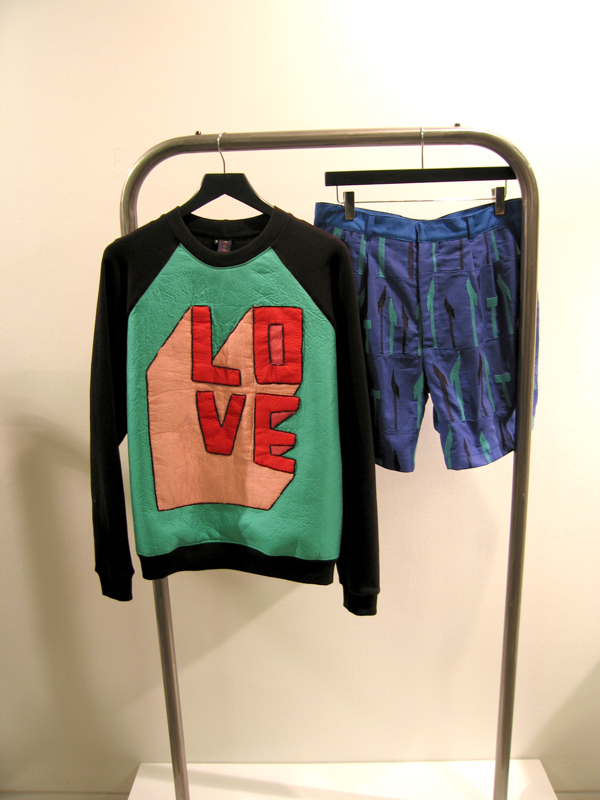 Trine Lindegaard's SS14 collection is the product of two very unique collaborations. The first is a cooperation with a charity called Fine Cell Work, which allows inmates in prisons across the UK to communicate their creativity through the medium of stitching with the aim of 'fostering hope, discipline and self-esteem among their communities.' This project has resulted in designs with a unique sporty feel, juxtaposed with uplifting messages of love and freedom. The other surprising influence originated from the heart of West Africa and its long-standing weaving tradition. Trine Lindegaard worked with a team of Ghanaian weavers, who created the handmade textiles for her designs – doing everything from picking the cotton to dyeing and weaving the fabric. The combination of vibrant colours and positive messages results in an uplifting collection of garments, bursting with messages of optimism and joy.
Berthold – Nothing Is What It Seems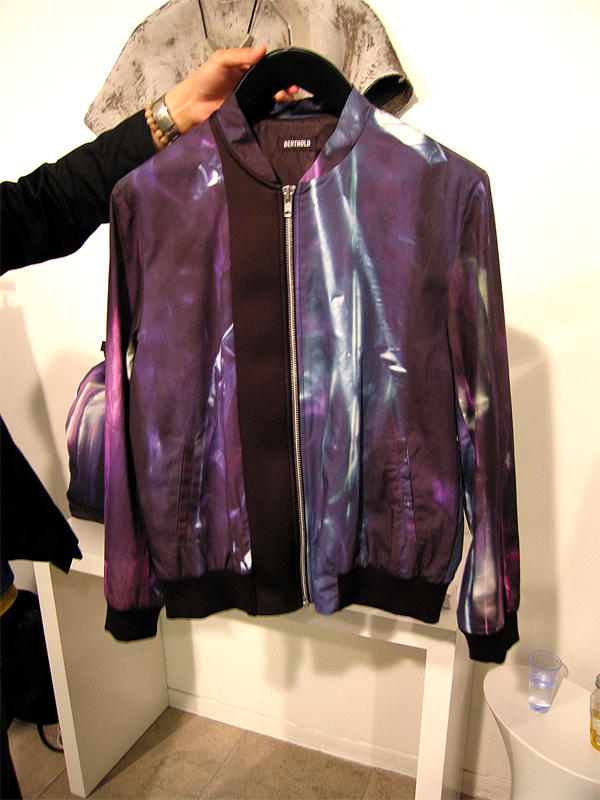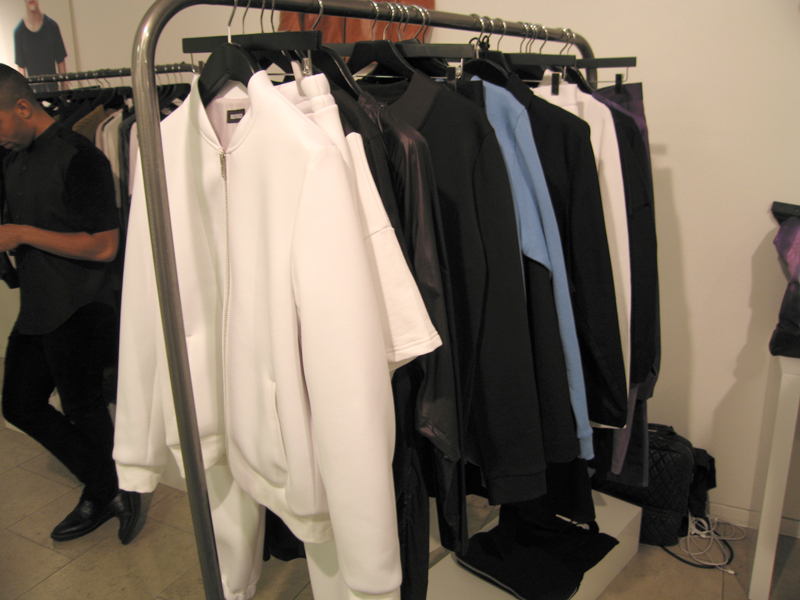 Looking at this collection you may feel as if you are floating through space – neoprene jackets, subtle laser engraving, see-through nylon shirts and a galaxy style print, all evoke a sense of futuristic space travel. But when asked to talk through his inspiration, designer Raimund Berthold said that he had no particular vision in mind – instead he produced a multifarious ensemble of comfortable pieces, which he tied together through a stark black-and-white colour spectrum, with occasional splashes of blue. "I'm not even used to this much colour," he laughed when asked about the colour palette, tugging at his head-to-toe black outfit. What appeared to be a galaxy print turned out to be a projection of plastic bags from his friend's short film, further reinforcing the fact that nothing is what it seems when it comes to Raimund's directional work. Berthold's SS14 collection certainly makes a bold statement, and is likely to be a great conversation starter – this one is sure to be a hit with men who are not afraid to stand out.
Domingo Rodriguez – Modern Cowboy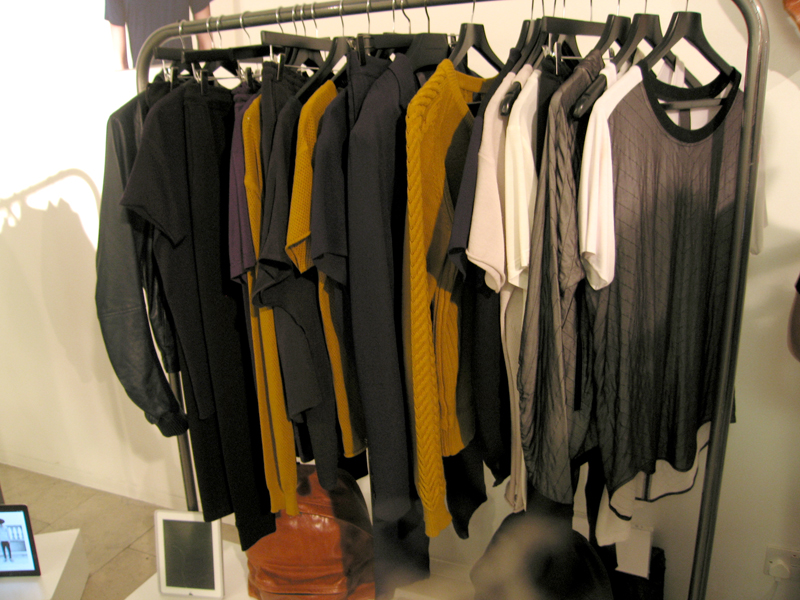 Domingo's collection is, typically of his designs, inspired by the beauty of a man's body. Through progressive pattern cutting, Domingo has created clothes which beautifully delineate the muscle tone and curvatures of the male form. Mixing rougher pieces like snakeskin biker jackets with sheer tops, Domingo Rodriguez has created a well-balanced collection for men who are not afraid to be the centre of attention. The demure colour range does not distract from the main star of the show – the wearer  – and these garments are also aimed at confident men.
ESK – A Tale of The Scottish Countryside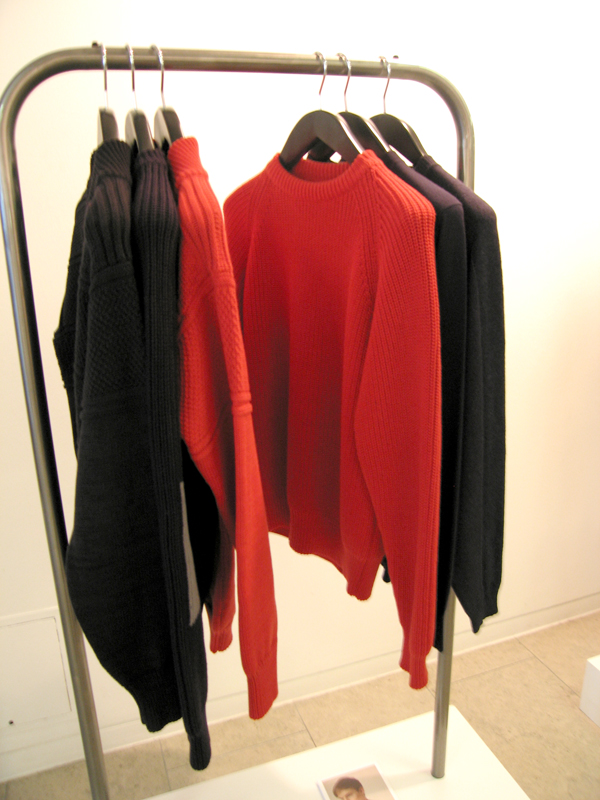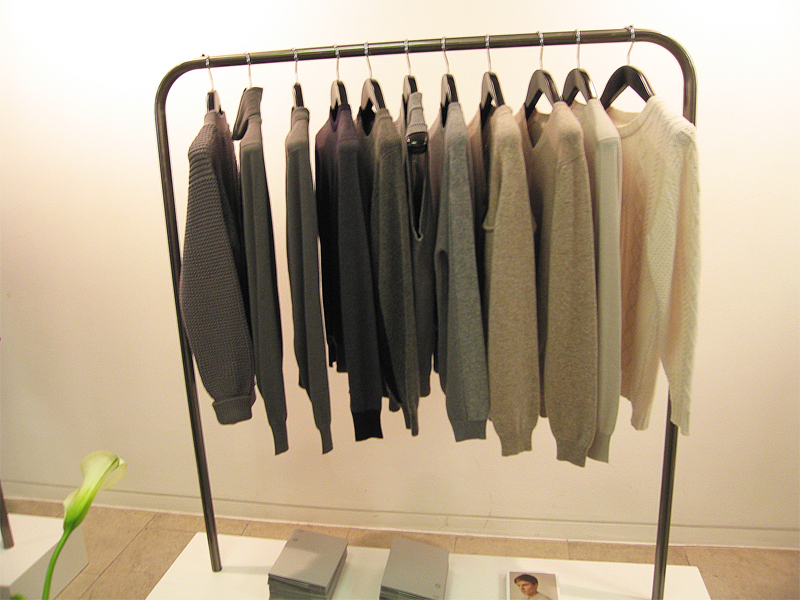 According to the brand's managing director, Stuart Maxwell, ESK's new collection was mainly inspired by his native Scotland – everything from nature to architecture – and the beauty of the North certainly comes through. Using a large variety of materials from cashmere to cotton, ESK's offers a range of cool, slim-fitted sweaters. Although ordinary at first sight, these feel absolutely divine to the touch. With their high quality materials and timeless design, the pieces should prove to be a wise indulgence – they may not provide the answer to life's most important questions, but these knitted cashmere sweaters are the sartorial equivalent of intense psychotherapy.
Universal Works – Also Available in Navy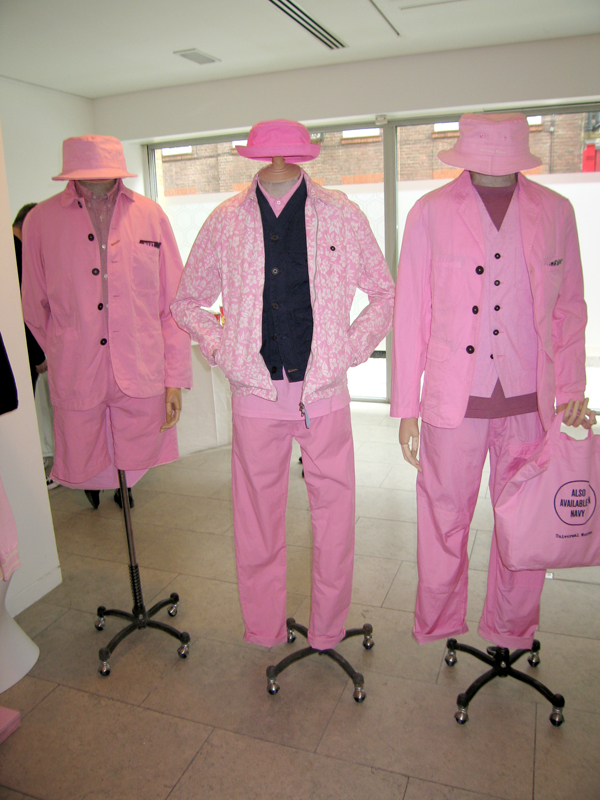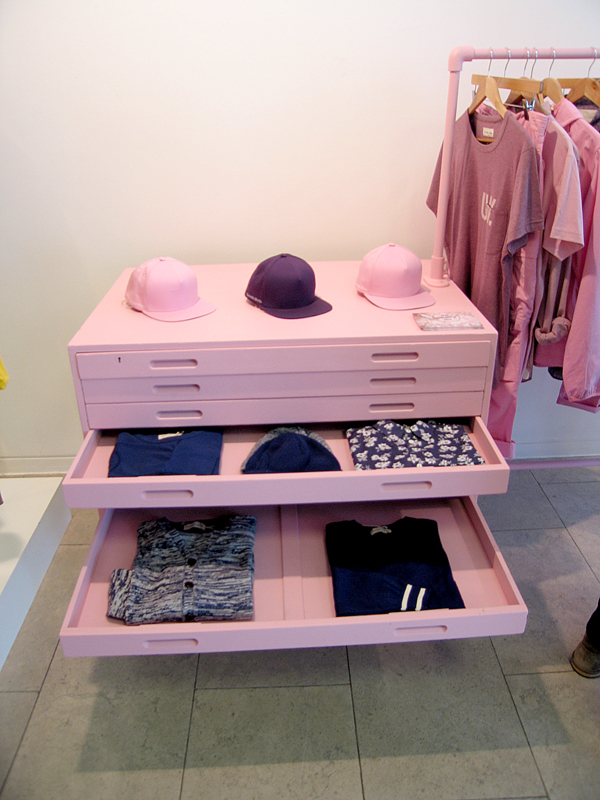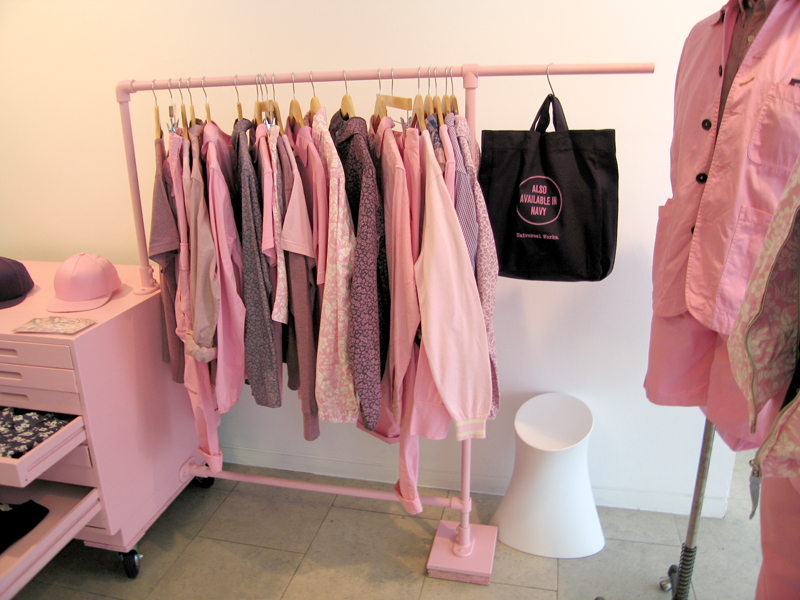 Universal Works' standout SS14 collection is full of floral patterns and vibrant pinks in an ambitious exploration of society's responses to colour. "I don't understand why colour should be tied to gender," the designer explained. His tongue-in-cheek collection – which he describes as "cool, casual and understated," consists of a myriad of designs not necessarily aimed at a specific demographic, but at men who are not afraid to challenge the Western belief that pink is a feminine colour. Though if they are (afraid), they can rest assured that this collection – entitled "Also Available in Navy" – is, well, also available in navy.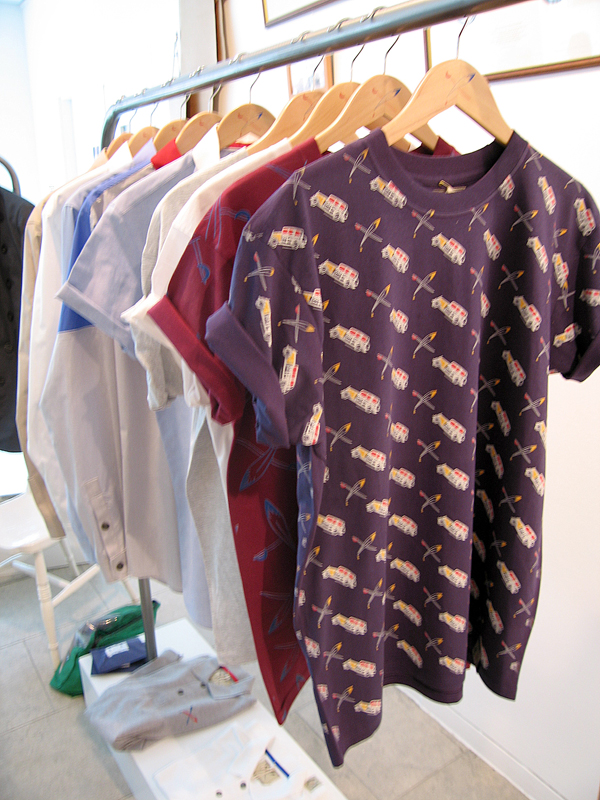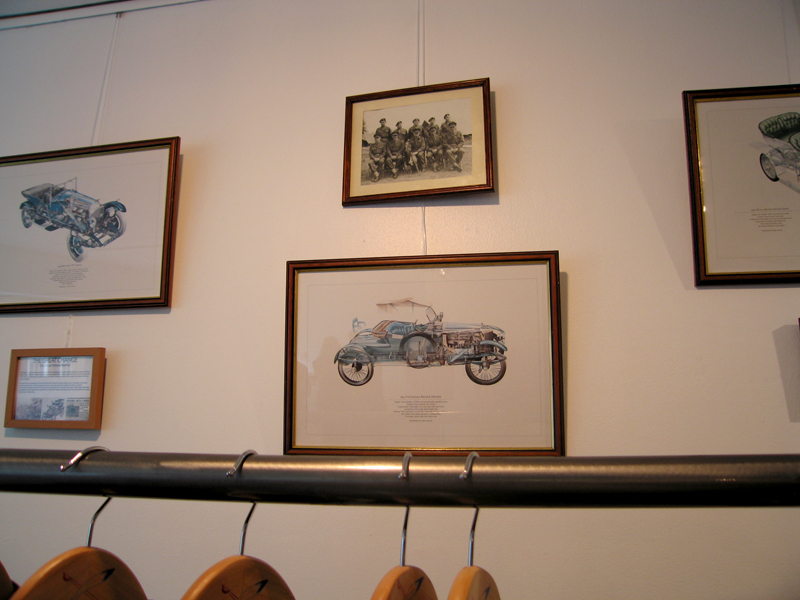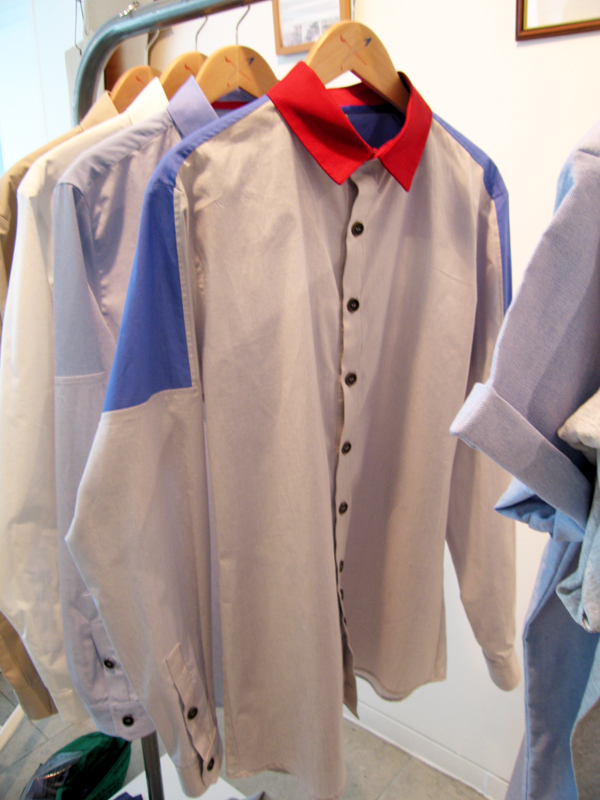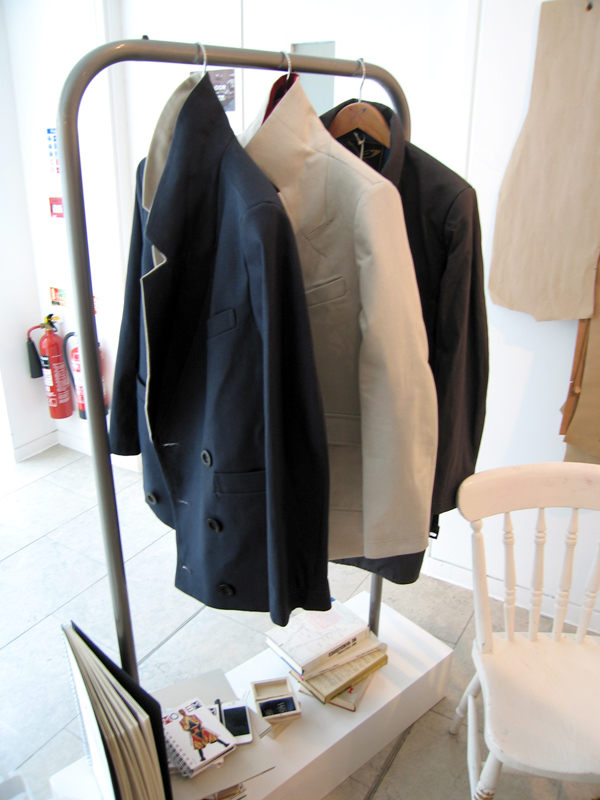 The designer behind Tobefrank, Frank Phillips, explained that her main inspiration for this collection was the invention of the automobile. She played around with the theme of mobility, both in its literal sense and in terms of social class. Her collection is not merely a sartorial exploration of this phenomenon, but also a project ensuring greater social mobility for those involved in the garments' production. Tobefrank works with a factory in Bangladesh, which is closely monitored to ensure favourable working conditions for its employees. This is no empty gesture: Every shirt comes with a unique barcode, which can be scanned using an iPhone. The brand's free app allows you to watch the unique story of your garment's creation, including its production phase. "If I were to sum up the collection in two words, I would have to say honesty and quality," says Frank.
Norwegian Rain – Tailoring Meets Technology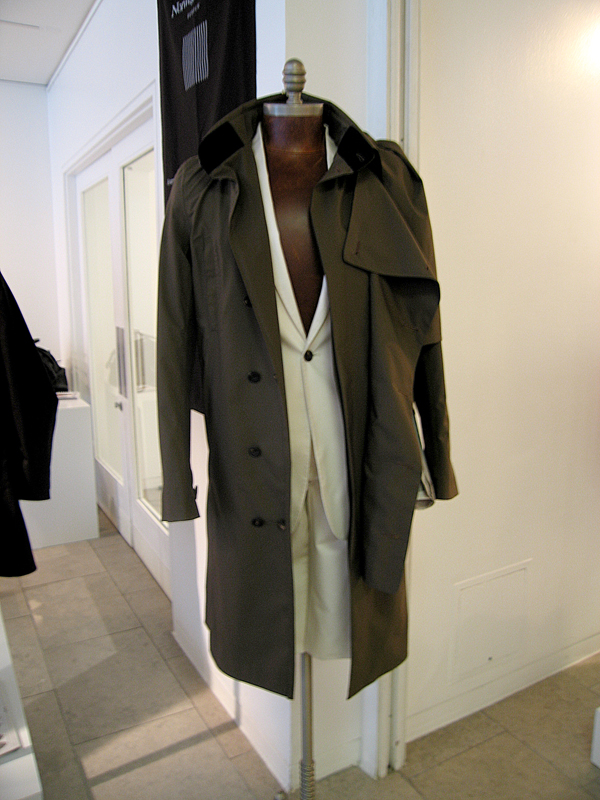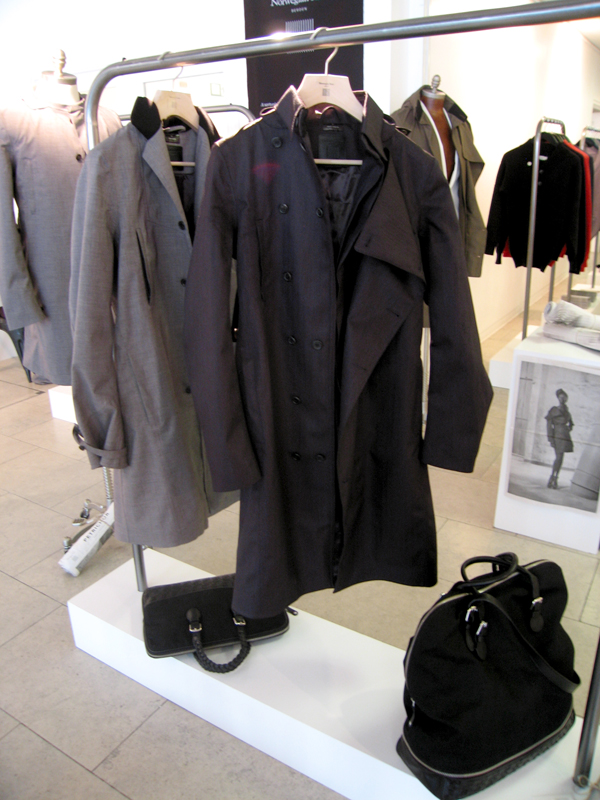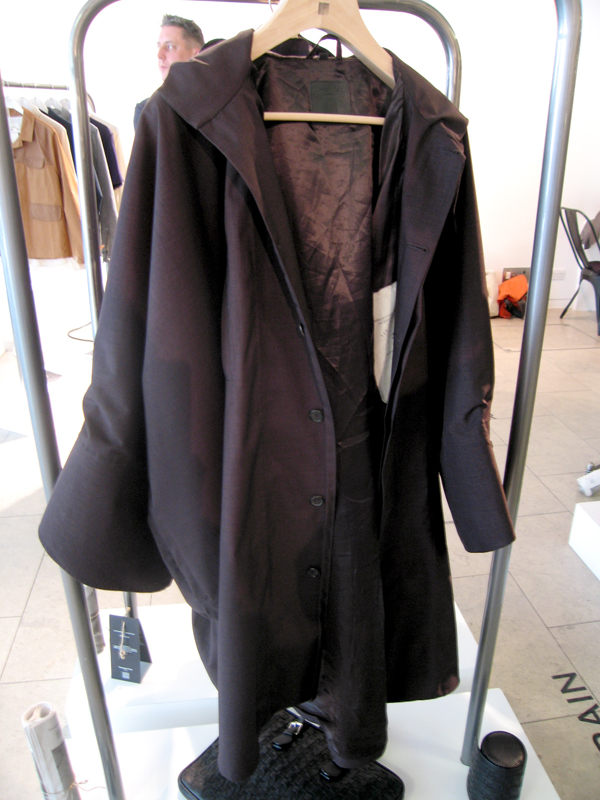 Centred around functional outerwear, Norwegian Rain specialises in combining hidden hi-tech and stylish design. Although London's recent weather may have fooled us, the creative director of the brand – Alexander Helle – insists that their native city of Bergen in Norway is the rainiest place in Europe. However, the raincoats are not entirely inspired by seasonal trends like the weather, they also offer traditional tailoring, pure aesthetics and clean designs. Come rain or come shine, these timeless coats seem like the perfect response to this year's unpredictable climate.
Tom Crisp – Acid Indie Boys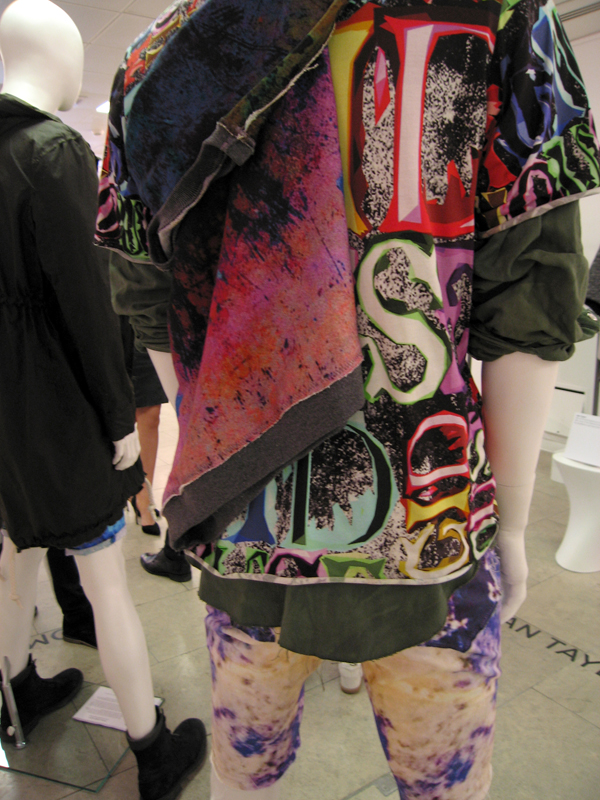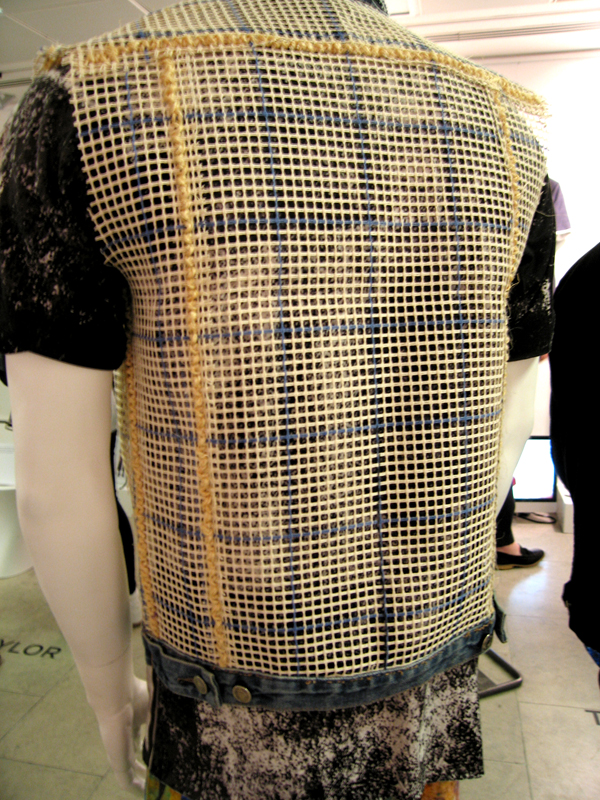 According to Crisp, his colourful collection is the equivalent of a "grungy countryside boy on an acid trip". From wild printed tees to long parkas with raw edges and vests made of rug-like fabric, everything about this collection is reminiscent of a hedonistic summer in the big city. Appealing to a younger demographic, Tom's creations were inspired by the '90s as well as the designer's own style. Despite its self-indulgent character, Crisp's "vanity project" is likely to prove popular with a young and arty crowd.