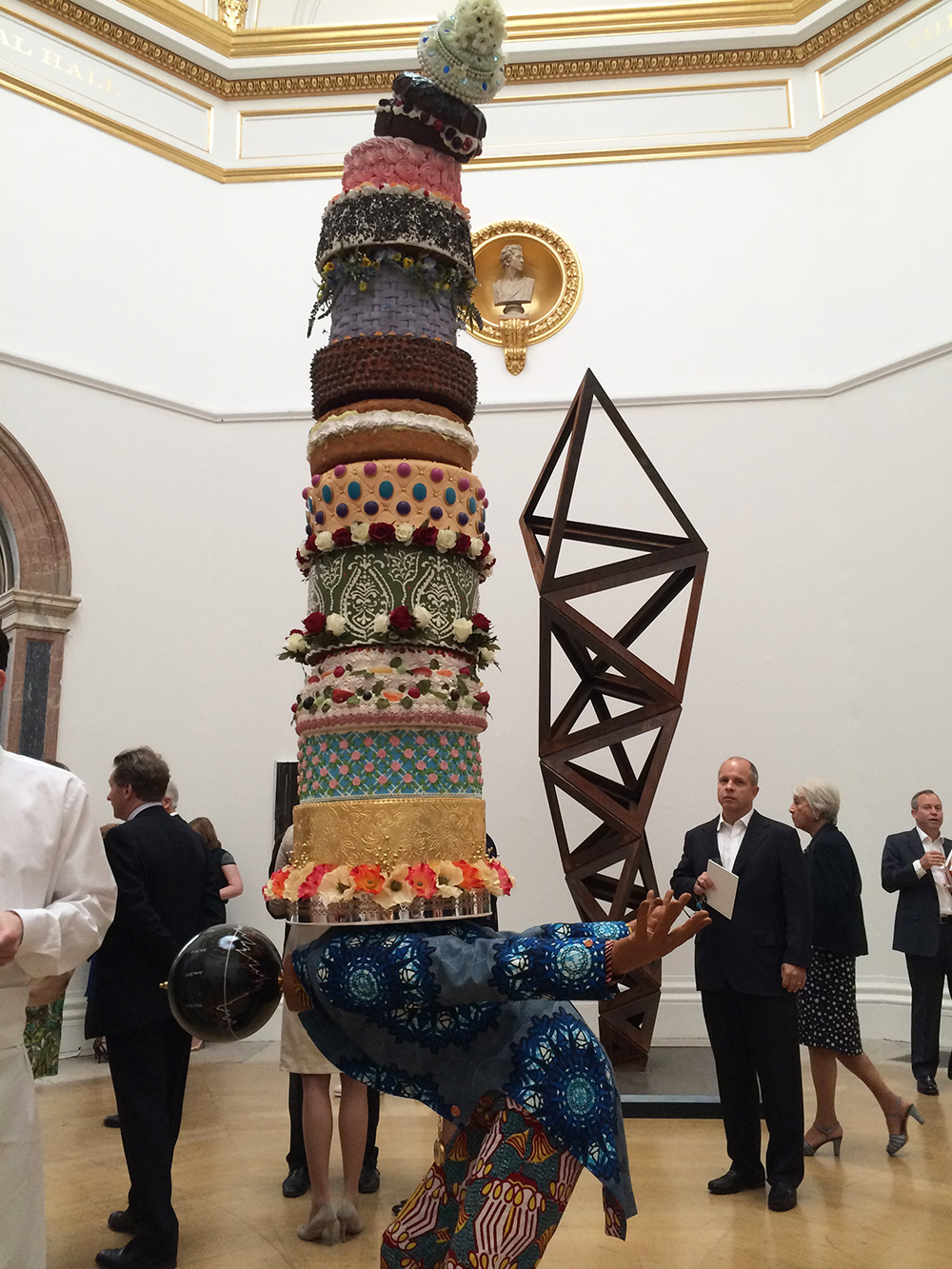 Royal Academy Summer Exhibition Preview Party, 2014
Unless you're keen to get first dibs on the art for sale, it's probably best to visit the RA Summer Exhibition when not juggling conversation, canapés, a champagne flute, an evening bag and the show's list of works. The artworks aren't always the focus of attention at the Preview Party, which is bursting with food, fashion, celebrities and music.
Sponsored by Insight Investment, the first piece you see on entering the show, ironically, mocks bankers. Cake Man (II), by newly elected academician Yinka Shonibare consists of a life-sized mannequin with a pile of cakes balanced precariously on its back (apologies for the poor quality phone photos in this post).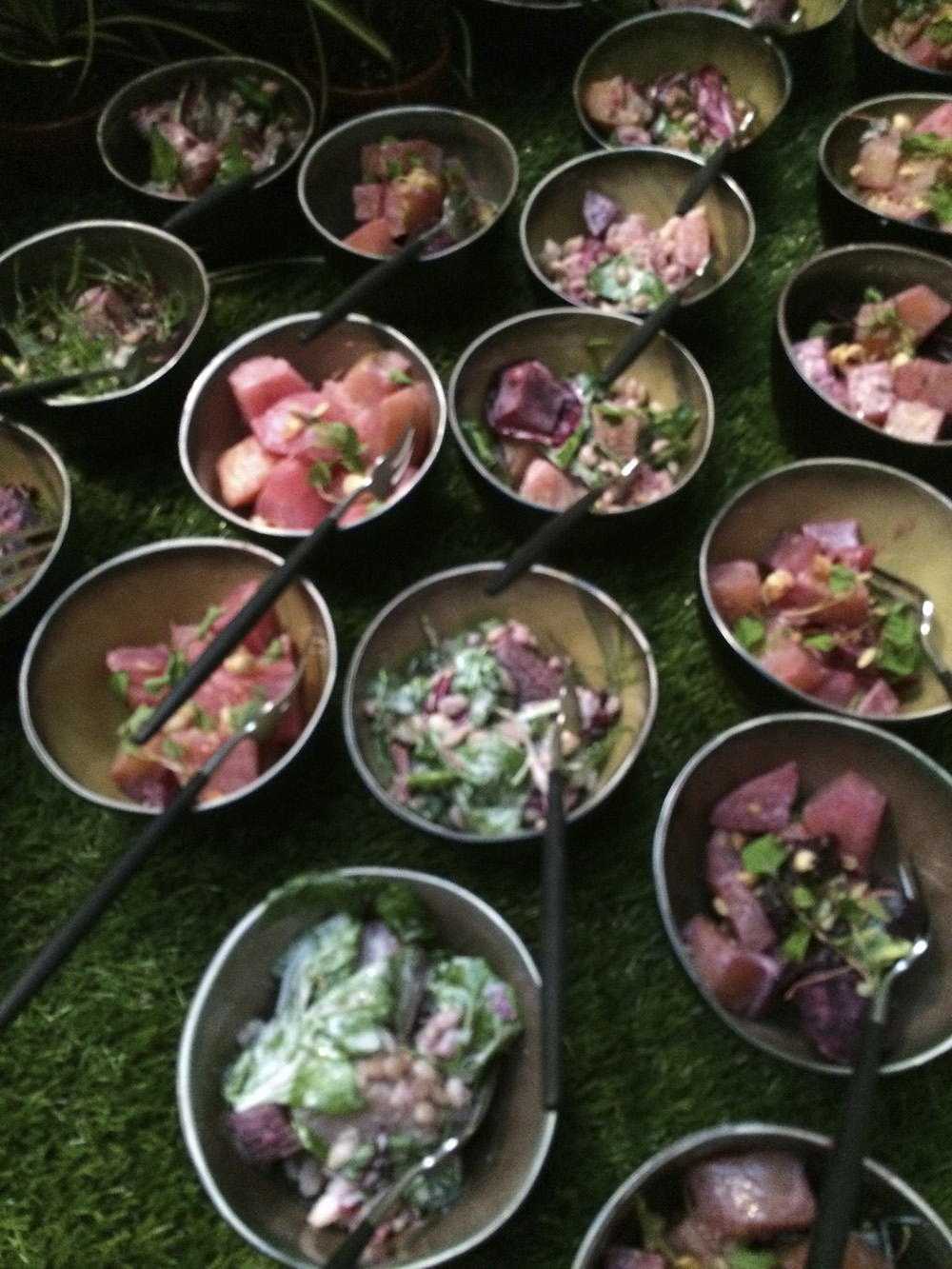 There were plenty of real cakes and lots of other delicious delicacies available from Scandinavian themed stands on Wednesday night. Foraged fare included wild herbs, berries and hot smoked and cured meat and game, served from a flat pack style food cube. The retro inspired Nordic Dessert Caravan in Gallery II was piled high with miniature desserts, including yoghurt with wild fruit and beetroot ash, and caramel almond cakes.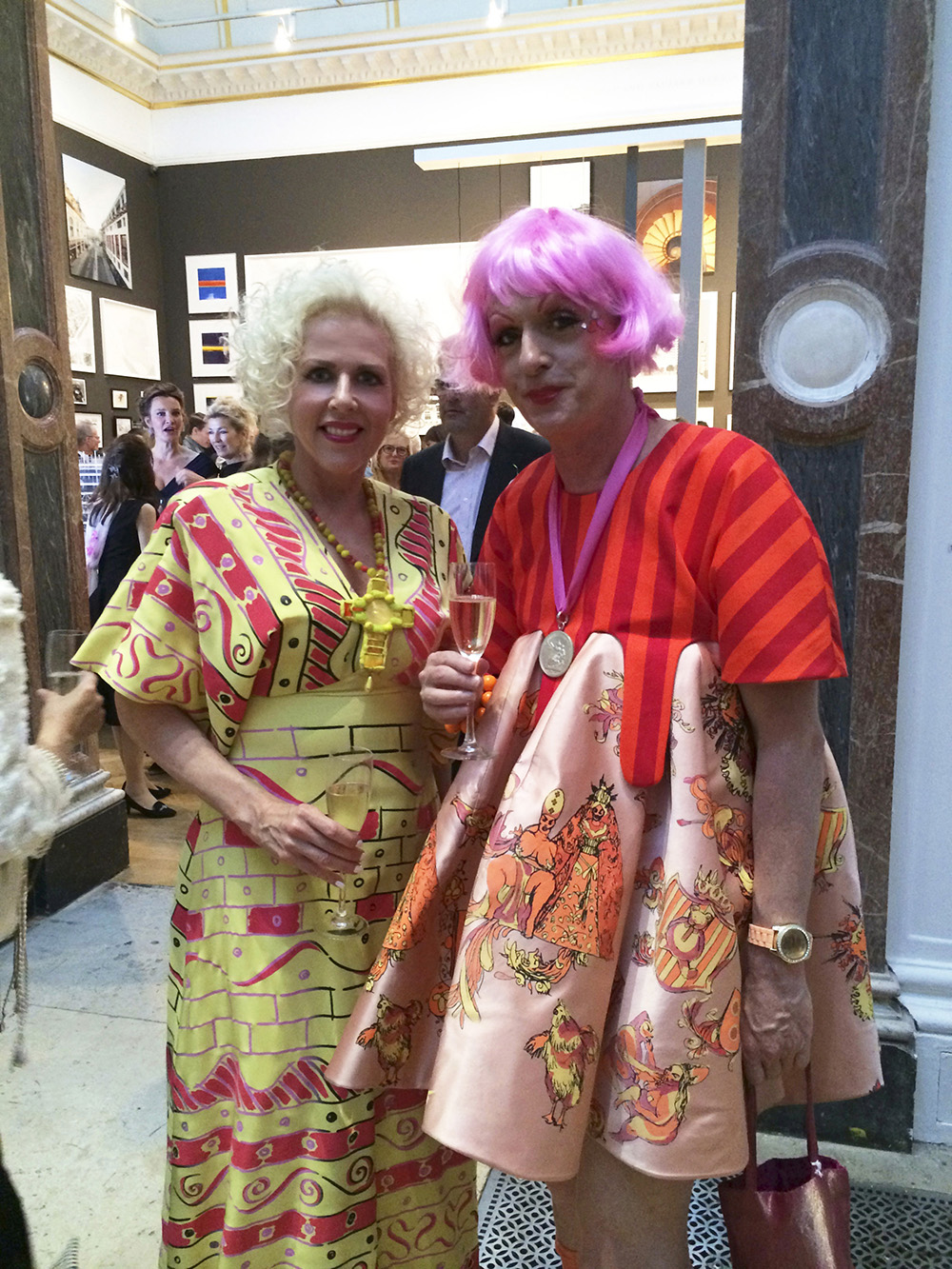 Grayson Perry held court in the central hall, dispensing wisdom and witticisms to a constant stream of admirers. His predictions for the coming year: that "a new art movement will emerge from some unexpected quarter of the globe and it will almost instantly reconfigure the values in contemporary art and the market will implode leaving the art world reeling, or, artists will continue to churn out variations on the old stuff and some of it will be quite nice."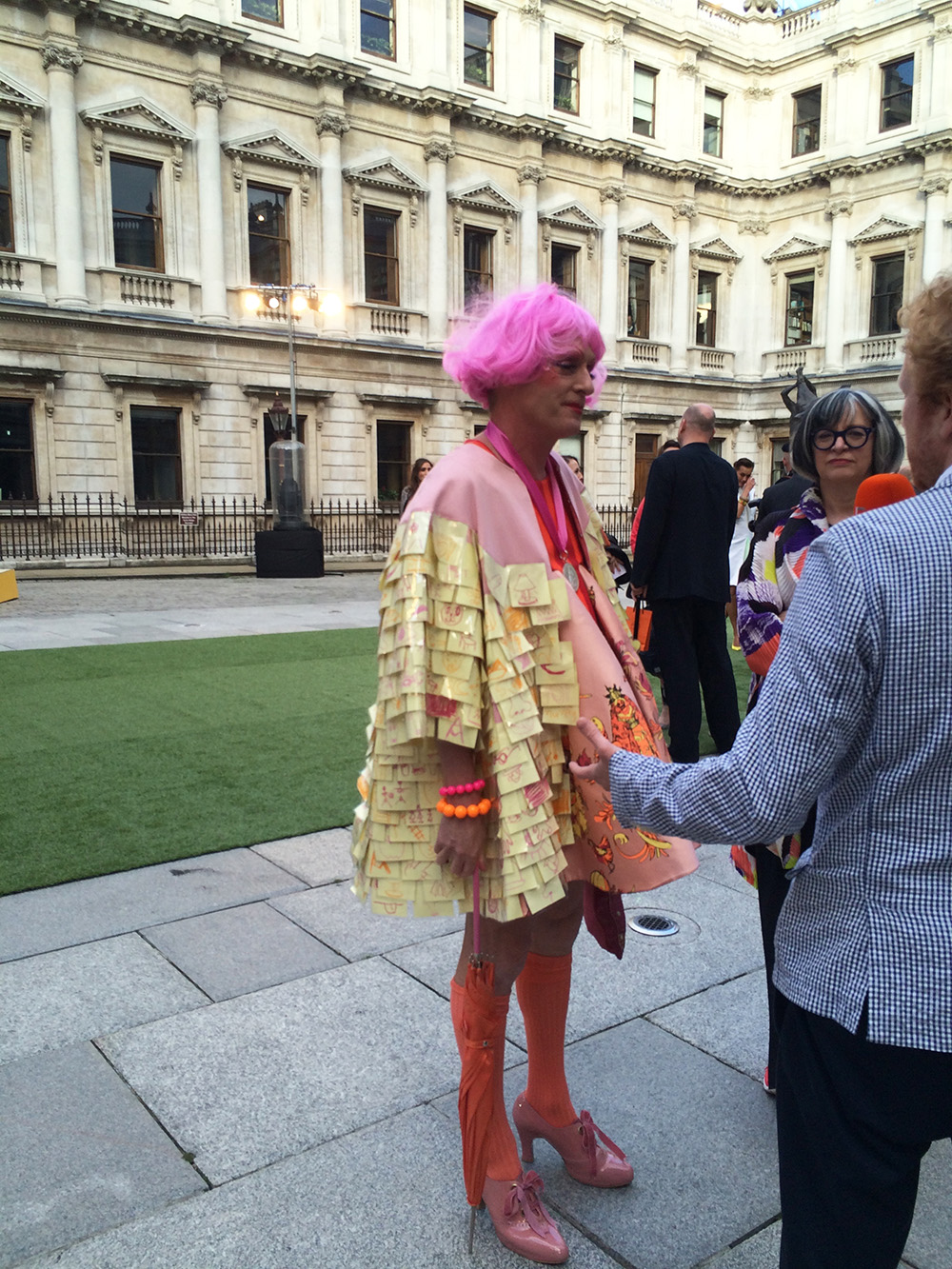 He certainly lived up to the 'glamorous' dress code with his post-it note cape, court jester candy kitsch baby doll dress, pop-pink wig and flouro accessories. As did fashion designer Sadie Clayton, and artist Ewa Wilczynski.
Henry Holland made sure he didn't go unnoticed by wearing a shocking red suit. My own works of art consisted of a hand-painted Zandra Rhodes dress and yellow 'forgive' with holographic eye, by Andrew Logan.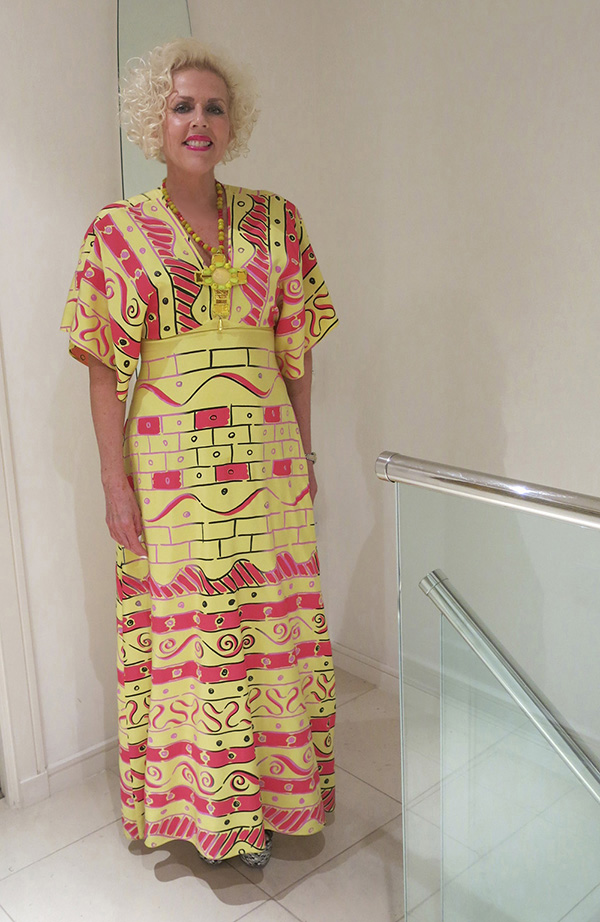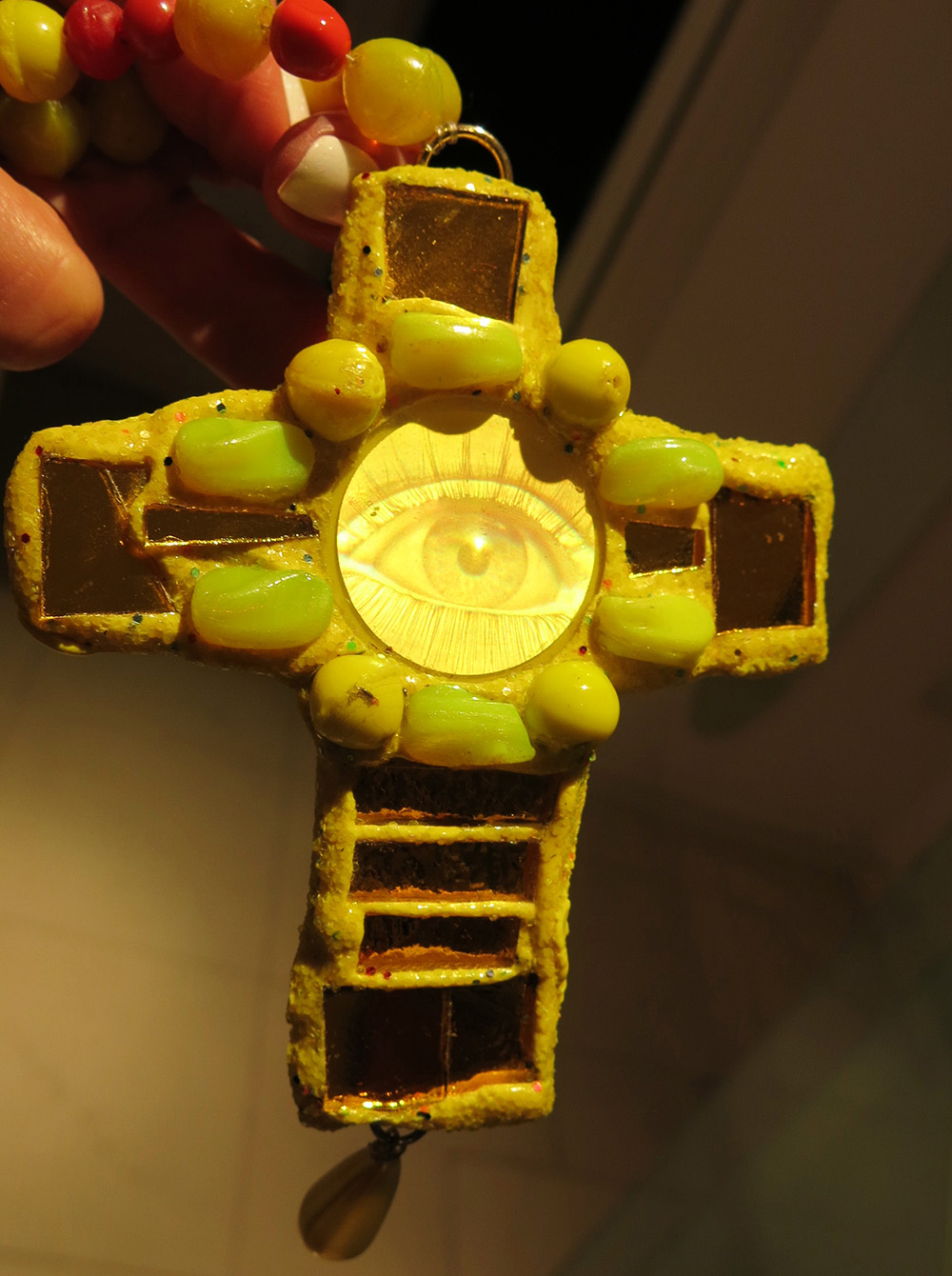 Afterwards, the Kaiser Chiefs played in the courtyard to a small audience. Ricky Wilson performed brilliantly. We were entranced. What a great party. Talk about having your cake and eating it.  Yum!