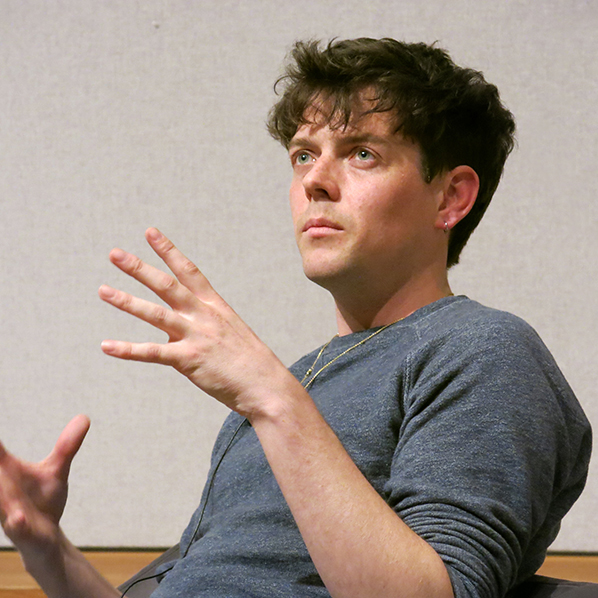 Craig Lawrence: Innovations in Knitwear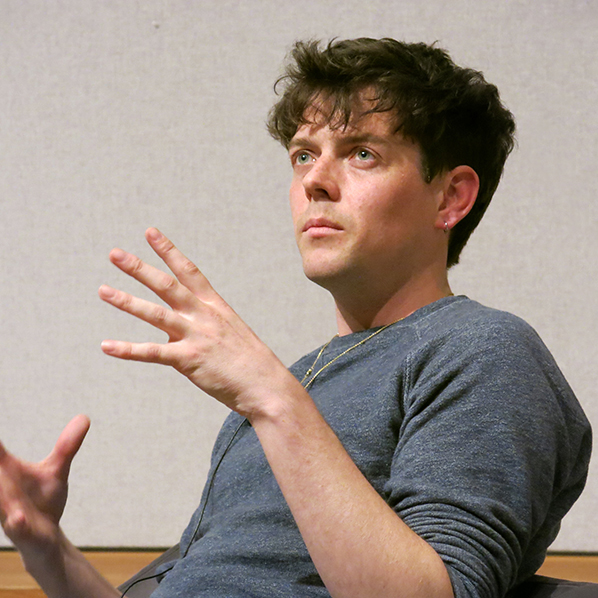 Craig Lawrence is something of a star in knitting circles. At least one lady had taken her knitting needles along to his question and answer session with Tamsin Blanchard at the V&A. The woman was making something that must surely have been for a child – unless lemon coloured wool is the next big thing in fashion?  Lawrence doesn't knit with wool – in fact anything but.  His favoured yarns include cotton tape, bin bags, barrier tape and other innovative materials like fibre-optic fabrics, though fluffy socks may well be on the cards in the not too distant future. Might these be bed socks, perhaps? He confesses that his grandmother taught him to knit at the age of 13. "She had all the knitting books," and made Craig and his brother matching apple motif jumpers.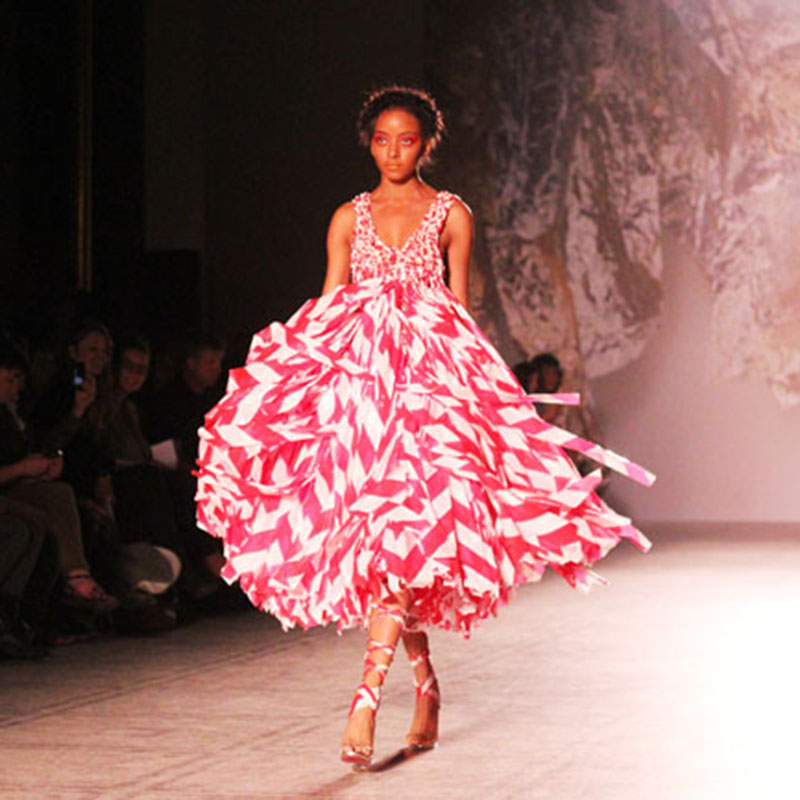 Craig has been taking a year out – a creative breathing space from the workload generated by his meteoric rise to fashion fame. After A levels in art, photography and textiles, he undertook a foundation course at the London College of Fashion before winning a place at Central St Martin's. He was encouraged to be experimental and, in his first year at college, was approached to make some pieces for Gareth Pugh's London Fashion Week show.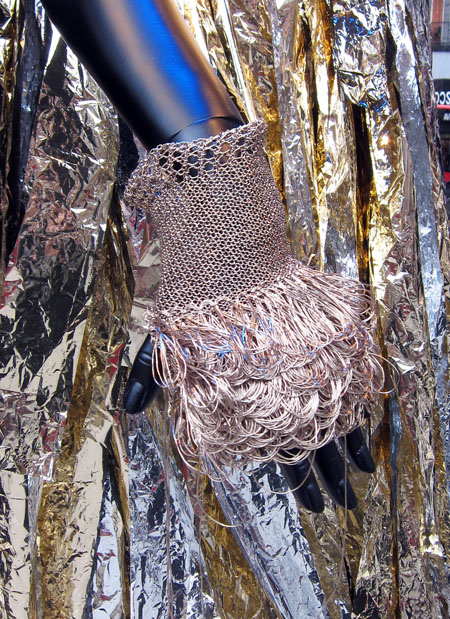 Lawrence has elevated homespun design to high fashion with his novel approach to knitting. However, he admits that his DIY methods and unusual choice of knitting materials are related to his thrifty nature – he simply doesn't like spending too much.  He's crafted elaborate garments from strands of silver and gold foil on large knitting needles that "look like little rockets" and he's even made knitwear using scoobies (the braided cords which children twist together to create toys and lucky charms).  His innovative techniques include knitting in concentric circles – a method he employed for a smoking jacket design that was exhibited by Show Studio (see below). He also uses a mix of wire and yarn for a more sculptural effect.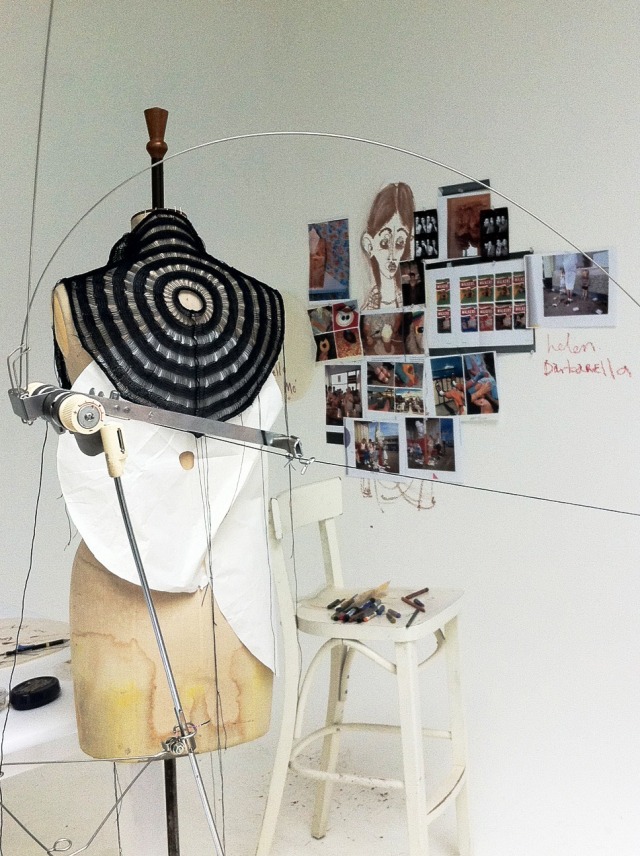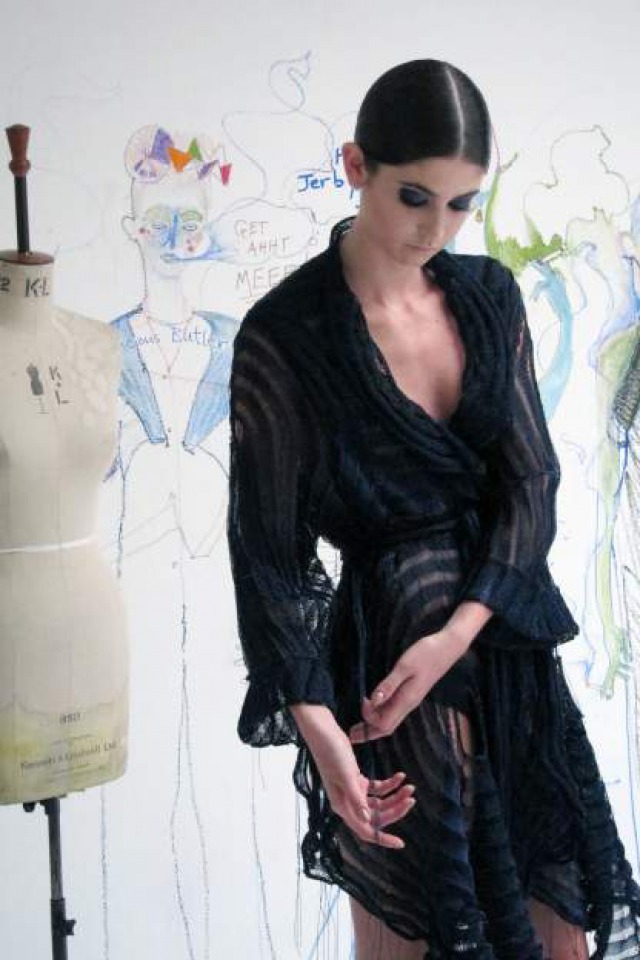 So who wears his designs? Lawrence has dressed celebrities like Tilda Swinton (a satin tape dress for a limited edition cover of AnOther Magazine), Bjork and Lady Gaga – who appeared on the cover of Grazia in a gold Craig Lawrence dress that she apparently wore for only 10 seconds whilst walking from a hotel door to her car, where she promptly changed into another outfit! Lawrence says that museums are generally more receptive to his designs than shops are. That being said he has sold gloves at Selfridges and usually produces around five of each piece in a collection for sale at cutting edge stores such as Dover Street Market. Low-key Lawrence is currently enjoying artist in residence status at Somerset House – expect to see more flashes of genius from this curiously unassuming fashion phenomenon.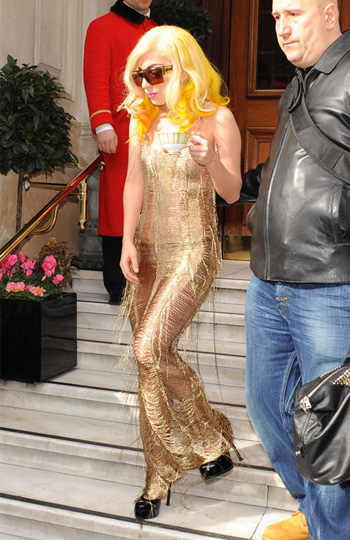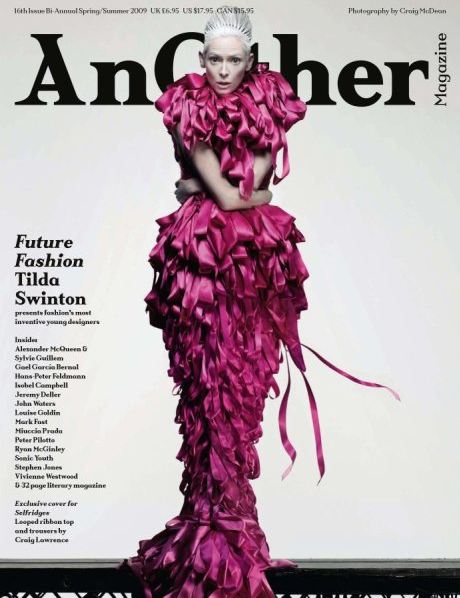 See some of Craig's extraordinary designs in this Fashion In Motion Video from the V&A.